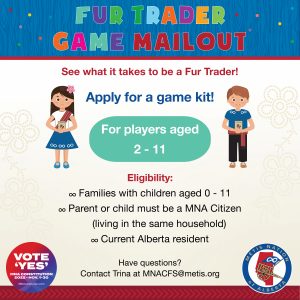 Find out what it takes to be a Fur Trader. Apply for the Children and Family Services Fur Trader Game today!
This game is a great activity for Métis families to learn about this important aspect of Métis history and the cultural significance of the fur trade, the basics of an entrepreneurial spirit, and connect with the Métis Nation of Alberta.
This game is great for players aged 2-11. Parents can join in the fun by hiding the beaver pelts and timing how long it takes kids to find them all.
Eligibility:
Families with children aged 0 – 11; and
Parent or child must be an MNA Citizen and living in same household; and
Current Alberta resident
Have questions about the mailout? Contact Trina at MNACFS@metis.org
Fur Trader Game Instructional Video
Not sure how to play the game? Watch the short video below!