Métis in Alberta
The Métis Nation within Alberta has a long history of organizing and political participation. Since the end of the 19th century, Métis in Alberta have stood together and pressed governments to respect our Métis rights and treat our claims fairly. When L'Association des Métis d'Alberta et les Territories du Nord-Ouest was founded in 1928 (the predecessor of the Métis Association of Alberta (1932) and today's Métis Nation of Alberta), its express purpose was to lobby the federal government to ensure that Métis land rights were respected. We have kept with that work ever since. Through the decades, we have had a singular focus: to build a strong Métis Nation embracing Métis rights.
Our founding fathers, the "Métis Famous Five," were Joe Dion as the first president, Malcolm Norris, Felix Callihoo, and Pete Tomkins as vice presidents, and James Brady as secretary treasurer (pictured right).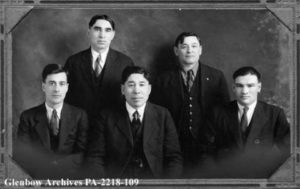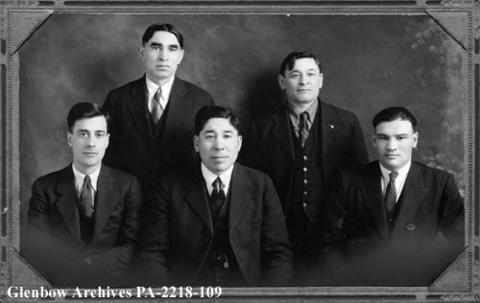 Joe Dion, Malcolm Norris, and Adrian Hope, as well as other Métis leaders, successfully lobbied the provincial government, and in 1934, the Ewing Commission was formed to investigate Métis health, education, homelessness, and land issues.
After a two-year investigation, the Commission recommended the province provide Métis with a secure land base and adequate services. In 1938, one of the MAA's visions came to be when the Alberta government enacted the Métis Betterment Act, leading to the creation of 12 Métis Settlements (today 8), and the first and only secure land base for Métis in all of Canada.
Read more about Métis history in Alberta and Canada on our Timeline page.