Community Information Sessions are a time to gather and exchange information on important topics. We welcome a diverse group of community organizations and presenters to lead these bi-monthly discussions to increase awareness and knowledge among our citizens. These sessions are a space where Métis people can safely learn from one another, connect to community, and enhance collective well-being.
Due to the COVID-19 pandemic, these events will be held virtually until we can safely gather in person again.
For more information or to suggest a topic for a future Community Information Session, email mnacfs@metis.org.
Upcoming Community Information Sessions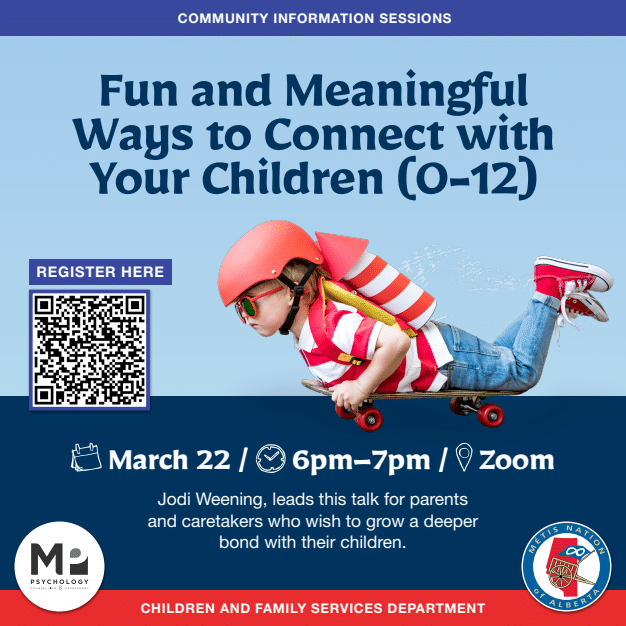 Join us March 22, from 6–7 p.m. to grow a deeper bond with your children. Jodi Weening will be leading our latest Community Info Session, "Fun and Meaningful Ways to Connect With Your Children," which will take parents and caretakers through the four domains of parenting according to TheraPlay: Challenge, Structure, Nurture, and Engagement.
Using these domains, we will identify our strengths and weaknesses and look at finding fun ways to incorporate these into our interactions with our kids.
If you have questions, please reach out to Tracey at tverbonac@metis.org
Previous Community Information Sessions
Hacking Your Happiness
Sleep Hygiene
Better Choices Better Health – No recording available
Let's Get Real – No recording available
Negative Self Talk – No recording available
Mindfulness for Métis Families – No recording available
Leading ChangeTM: Understanding Domestic Violence – No recording available
Foundations of Fetal Alcohol Spectrum Disorder (FASD) – No recording available
Office of the Child and Youth Advocate