Community Information Sessions are a time to gather and exchange information on important topics. We welcome a diverse group of community organizations and presenters to lead these bi-monthly discussions to increase awareness and knowledge among our citizens. These sessions are a space where Métis people can safely learn from one another, connect to community, and enhance collective well-being.
Due to the COVID-19 pandemic, these events will be held virtually until we can safely gather in person again.
For more information or to suggest a topic for a future Community Information Session, email mnacfs@metis.org.
Upcoming Community Information Sessions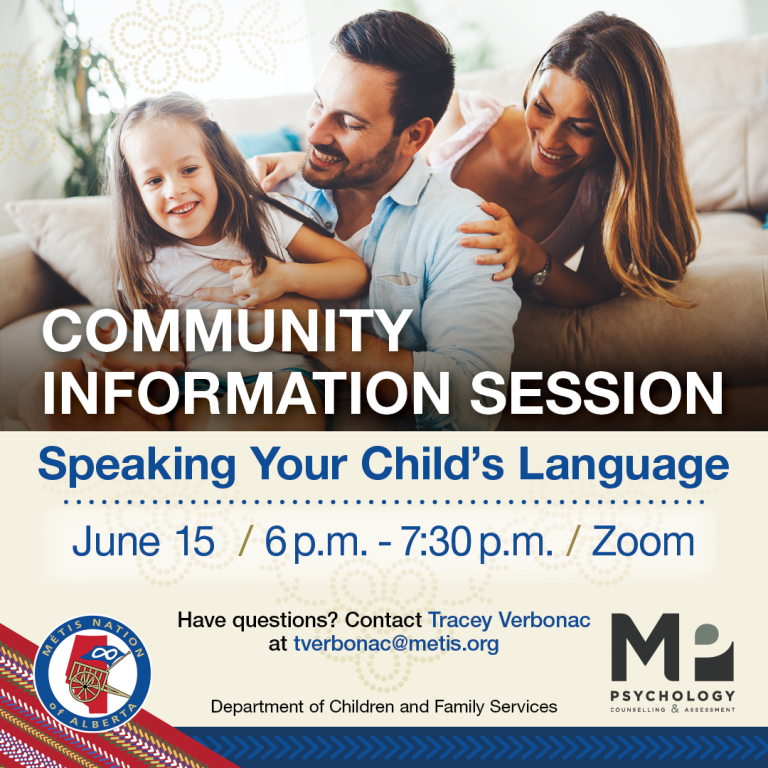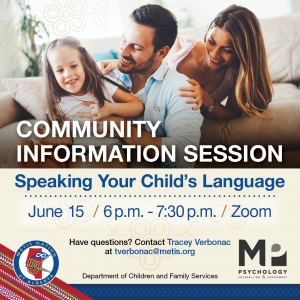 Let's understand what they are trying to tell us!
Behaviour is a very powerful communication tool. This seminar is for anyone who interacts with children or adolescents and would like to learn new ways of understanding and addressing challenging behaviour.
Participants will learn how to read the cues children give us, what needs the child is communicating, and choose practical strategies to connect, co-regulate, and redirect behaviours.
June 15
6:00 p.m. – 7:30 p.m.
Zoom
Presenter: Jasmine Basaraba
Jasmine is a registered provisional psychologist working with MP Psychology since 2020. She works within schools in the Edmonton area. She is trained in child-centered play therapy and expressive trauma integration. She continues to dive into learning from many different modalities to facilitate a diverse and accessible therapeutic experience for her clients, including meditation, spirituality, art, gaming, story writing, etc.
Register for this session here
Have questions? Email Tracey at TVerbonac@metis.org
Previous Community Information Sessions
Better Choices Better Health – No recording available
Let's Get Real – No recording available
Negative Self Talk – No recording available
Mindfulness for Métis Families – No recording available
Leading ChangeTM: Understanding Domestic Violence – No recording available
Foundations of Fetal Alcohol Spectrum Disorder (FASD) – No recording available
Office of the Child and Youth Advocate