All Posts
Book tour returns to Métis Crossing in Alberta
Posted on: Aug 04, 2023
For Immediate Release
The authors of the new Métis book The True Canadians: Forgotten Nevermore are bringing their tour to Métis Crossing in Alberta on August 11-12 during the Annual General Assembly of the Métis Nation of Alberta. Beforehand, on August 10, the authors will be doing a special signing event at Indigospirit at the Edmonton International Airport.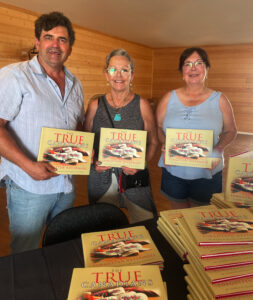 Located an hour's drive northeast of Edmonton near Smoky Lake, Métis Crossing is Alberta's first major Métis cultural interpretive destination, complete with a 40-room, boutique luxury lodge located on historical Métis river lots.
Authors Patricia Russell and David Wylynko will be available for book signings and readings during the assembly. They have been touring Canada promoting the book on Métis recognition, community, and reconciliation. Learn more about the tour at www.thetruecanadians.com.
The book, which represents a tool to educate Canadians on Métis history, culture, and pursuit of nationhood status, is particularly timely given the federal government's introduction this spring of Bill C-53 on Métis recognition.
Book sales across Canada have been brisk, with bookstores reporting a four out of five rating for the book, meaning the great majority of books that stores order are being sold. A second print run was ordered in the spring. The book is available at Chapters, Indigo, and Coles stores and at over 300 independent bookstores across the country.
"We are delighted with the success of the book to date, and hope that Citizens of the Métis Nation of Alberta who do not have a copy, or wish their copy to be signed, will visit with the authors at their booth at the annual general assembly," said MNA President Audrey Poitras.
The True Canadians chronicles the challenges and achievements of the Métis since their rights were recognized in the Constitution Act of 1982, while providing a retelling of Metis history that corrects traditional colonial accounts. It is punctuated by nearly 200 colour photos and 32 vignettes on major Métis achievements, people, and events.
-30-
For more information, media may contact: Olivia Bako obako@metis.org
Join our newsletter to stay up to date.