All Posts
Authors of Métis book resume tour
Posted on: May 10, 2023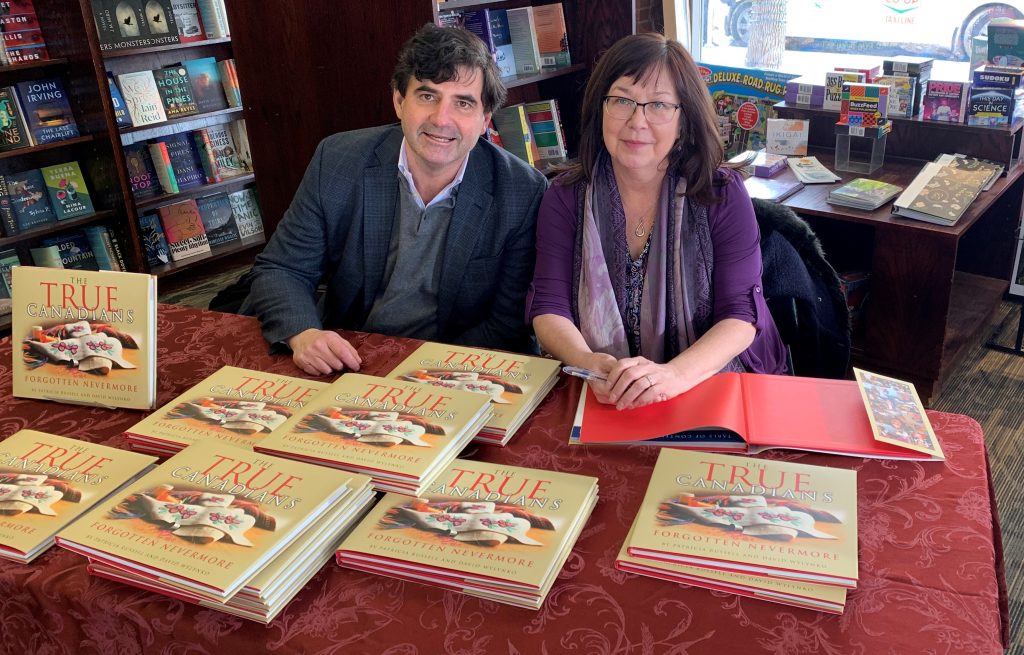 May 10, 2023 (Ottawa, ON) – The authors of the new Métis book, The True Canadians: Forgotten Nevermore, will recommence their nationwide tour today, with events scheduled across the country from the east coast to the west coast, including several Alberta locations, and finishing in Yellowknife, Northwest Territories.
Five stops are scheduled for Eastern Canada. Co-authors Patricia Russell and David Wylynko will start the tour in Kingston with a signing at Novel Idea from 3 p.m. to 5 p.m. Thursday afternoon they will be at Coles in Halifax from 12 p.m. to 2 p.m. and then head to Chapters in Dartmouth from 6 p.m. to 8 p.m. Friday they are in Ottawa at Black Squirrel Books from 1 p.m. to 3 p.m. And on Saturday afternoon they will be at Indigo at Bay and Bloor in Toronto from 3 p.m. to 5 p.m.
In April, the authors enjoyed great turnouts for the first leg of their tour, generating sell-out crowds in Winnipeg and Calgary as part of five readings and signings that also included Ottawa, Saskatoon, and Edmonton. The book was an April bestseller at McNally Robinson in Winnipeg. See photos and videos from the first leg of the tour here: thetruecanadians.com.
The second leg of the tour will consist of signings rather than sit-down readings. The authors will be available to autograph copies of the book and discuss the themes of Métis recognition, community, and reconciliation that punctuate the book.
Next week, the authors will return by popular demand to Owl's Nest Books in Calgary on May 16 from 3 p.m. to 5 p.m. They will then be at Indigo Books in Red Deer May 17, Coles in Grande Prairie May 18, and Chapters in St. Albert May 19, all from noon to 4 p.m.
The authors will visit Indigo on Granville Street in Vancouver from 1 p.m. to 5 p.m. on May 20, where they will be joined by the founding CEO of the Rupertsland Institute, Lorne Gladu, and finish the tour on May 26 at 7 p.m. at The Book Cellar in Yellowknife.
Conceived by Audrey Poitras, the President of the Métis Nation of Alberta, the book provides a retelling of Métis history that corrects traditional colonial accounts. It takes readers back to the very ethnogenesis that made the Métis the people of this land, describing their tremendous contribution to the wellspring of the Canadian economy and culture.
The True Canadians is distributed by Sandhill Book Marketing Ltd., the most recognized supplier of non-fiction single title and independently published Canadian books in the industry.
For media inquiries:
Victoria Belton
Senior Consultant, Media Profile
416-997-5179
Join our newsletter to stay up to date.