All Posts
Audrey Poitras Announces Retirement as Métis Nation of Alberta President
Posted on: Jun 14, 2023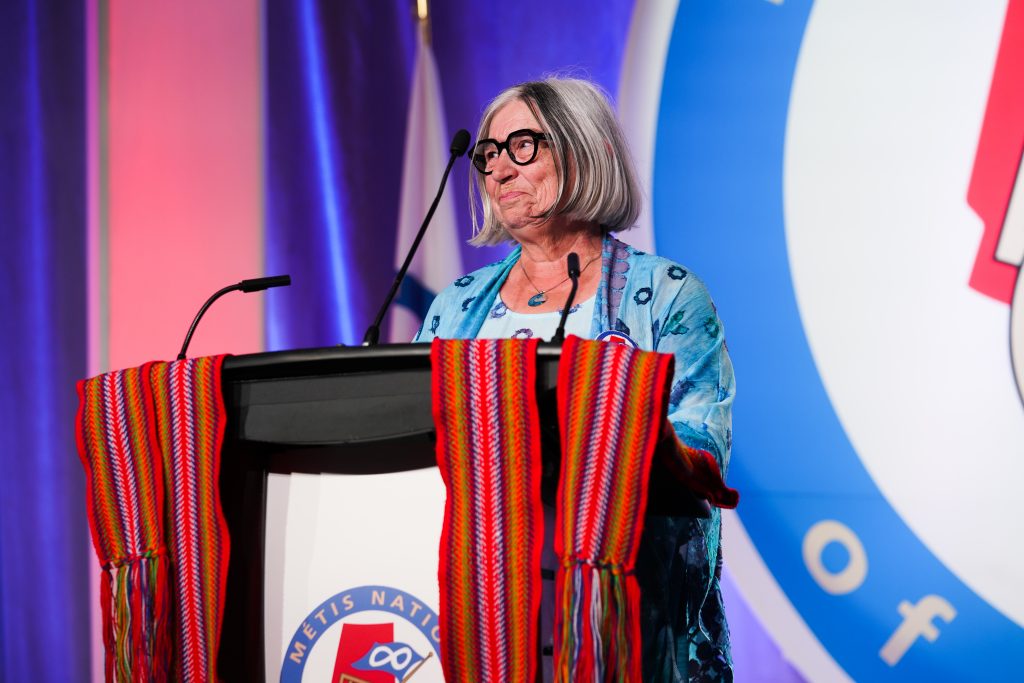 A 27-Year Legacy of Integrity, Growth, Success, and Results for Alberta Métis
Edmonton, AB (June 14, 2023) – On Saturday, at a celebration held in Edmonton with over 500 Métis citizens, elected leadership, dignitaries from across the Métis Nation Homeland and her large extended Métis family in attendance, Métis Nation of Alberta (MNA) President Audrey Poitras announced that she would not be running in the next MNA provincial election.
For a generation of Métis Nation citizens and Albertans, they have only known the steady, dignified, and respected leadership of President Poitras at the helm of the MNA—the government of the Métis Nation within Alberta. The MNA, which is celebrating its 95th anniversary this year, is the oldest continuous Métis government across the Métis Nation Homeland. For over a quarter of a century, President Poitras, known simply as "Audrey" to many, has been synonymous with the strength, resilience, and tenacity of Alberta Métis.
In 1996, President Poitras broke the first of many glass ceilings in her political career: becoming the first Métis woman to be elected as President of any provincial Métis government. President Poitras' first task in her new position was to stabilize the MNA's finances and separate politics from the MNA's fiscal management and administration. As the MNA's previous Finance Director, Audrey knew first-hand just how important transparent, credible, and accountable governance is to improving the quality of life of Métis citizens and Métis communities across Alberta.
After stabilizing the MNA financial and administrative operations, President Poitras turned her attention to building a strong and united Métis Nation—focused on its citizens, communities, and Métis rights. As a Métis nationalist, Audrey firmly believes that Alberta Métis will succeed and achieve Louis Riel's vision by coming together as the Métis Nation within Alberta, not by falling into the 'divide and conquer' traps past colonial governments have used against the Métis or replicating an Indian Act Band form of self-government for Alberta Métis.
In particular building a strong, democratic, and accountable self-government for Alberta Métis at the local, regional, and provincial levels, and having the MNA recognized as a Métis government by other governments has been an unwavering goal for President Poitras. A focus on the needs of Métis citizens and Métis communities as well as Métis self-government has been central to President Poitras' multiple successful re-election platforms.
In her meetings with many Prime Ministers, Alberta Premiers and Ministers over the years, President Poitras has always emphasized that if "we finally get our relationship right, the rest will fall into place."  The recognition of the inherent Métis right to self-government, and the recognition of MNA as the government of the Métis Nation within Alberta has been key to this long sought after nation-to-nation, government-to-government relationship.
In 2003, President Poitras was asked to step into the role of Interim President of the Métis National Council. During her time in that position, as she had done in Alberta, she brought stability to the Métis Nation's national advocacy body, including representing the Métis Nation in the processes leading to the Kelowna Accord. Famously, she announced to the Métis Nation, Canadians, and the world on September 19, 2003: "We won! We won!" after the Supreme Court of Canada released its unanimous judgement in R. v. Powley, which confirmed the constitutionally protected rights of the Métis people.
In 2004, President Poitras, Premier Ralph Klein, and Minister Pearl Calahasen signed the first province-wide Métis harvesting agreement to implement the landmark Powley case in Alberta. After that landmark agreement was later unilaterally cancelled by the Stelmach Government in 2007, the MNA turned to the courts to defend Métis harvesting rights all the way to the Alberta Court of Appeal. While the MNA was not entirely successful in the court, it continued to press for recognition of Métis harvesting rights and the use of MNA citizenship for the identification of Métis harvesters. In March 2019, the MNA was able to negotiate a new Métis harvesting agreement that recognizes the MNA's role as the representative of the citizens of the MNA, and shifted identification of harvesters from the Province of Alberta to the MNA.
Message from President Poitras:
"With the adoption of our Otipemisiwak Métis Government Constitution as Métis law in November 2022, our updated self-government agreement with Canada in February and the likely introduction of Métis self-government legislation into Parliament any day now, I believe we have put in place the solid and unshakable foundation to finally have a proper and respectful relationship with Canada."
"In order to get to this place, it has taken the hard work and dedication of so many of our citizens, communities, elected leaders, and ancestors. I am proud that after 27 years, I am able to retire with this solid foundation in place for the next generation to now implement our Constitution and take on the next exciting challenges before us with the same hard work and dedication that has got us here."
The Métis Nation of Alberta's election is scheduled to be held in the third week of September 2023.
Additional Information
Personal Background on President Poitras
Audrey is the daughter of Jean Baptiste Dumont and Mabel Kinch, and is a descendant of the legendary Gabriel Dumont with family ties to the Fishing Lake Metis Settlement. She grew up on a farm near Elk Point, Alberta, 150 kilometers northeast of Edmonton.  In 1966, she married her husband Gordon Poitras who passed away in 2011 and who was known for his passion for the Métis Nation and his family.
For her tireless work on behalf of the Métis Nation, Audrey has received numerous awards and recognition, including, the Queen's Golden Jubilee Medal, a National Aboriginal Achievement Award (now Indspire Award) for Politics, Esquao Lifetime Achievement Award from the Institute For Advancement of Aboriginal Women, Honourary Doctorate of Law from Concordia University,  Honourary Degree from NAIT, Honourary Diploma Norquest, and Alberta Chamber of Resources Indigenous Leader of the Year Award.
Overview of Some MNA Successes and Achievements (1996 to 2023)
Over the last 27 years, Audrey's legendary hard work, tenacity and stubbornness of never backing down, along with strategic planning, negotiations with other governments, partnerships with educational institutions and industry, enhancing and creating new MNA institutions as well as turning to the courts when necessary, have ushered in an era of unprecedented growth and success for Alberta Métis.  Just some of these achievement and successes have included:
● The establishment of the largest objectively verifiable Métis Nation citizenship registry with over 61,000+ registered MNA citizens as of June 2023.
● The creation of the Rupertsland Institute in 2010 as the MNA's education and training arm that trains approximately 800 citizens a year with support from 10 Métis employment offices and three mobile unit offices.
● The creation of Métis Crossing as an industry-leading tourism destination to celebrate Métis culture located on 512 acres of Métis-owned lands just outside of Smokey Lake, and that includes a 40 suite lodge for conferences and events;
In addition, Audrey's unwavering focus on building and securing the recognition of the MNA—as the government of the Métis Nation within Alberta—has finally been achieved.  In 2017, after the Supreme Court of Canada confirmed in Harry Daniels v. Canada that the federal government has constitutional responsibility for the Métis people, the MNA and Canada initiated formal negotiations on Métis self-government.  In 2019, the MNA signed a Métis Government Recognition and Self-Government Agreement with Canada. In February 2023, the MNA and Canada signed an updated self-government that confirms the MNA's inherent right to self-government in a legally binding agreement. It is anticipated that legislation to implement this recognition and a future constitutionally-protected treaty between the MNA and Canada will soon be introduced into Parliament.
More importantly, after generations of Alberta Métis calling for the MNA to adopt a Constitution (instead of continuing to operate under Societies Act bylaws), the Otipemisiwak Métis Government Constitution—as Métis law—was ratified in November 2022 in the largest ratification votes ever undertaken by an Indigenous nation in Canada with over 97% of voter supporting the constitution.  Last month, a MNA Special Assembly overwhelmingly voted to implement this Constitution following the first election to be held under it in September 2023.
Media Contact: Nicole Sparrow
nsparrow@enterprisecanada.com
Join our newsletter to stay up to date.