Virtual ChangeCore Peer-Led Group Support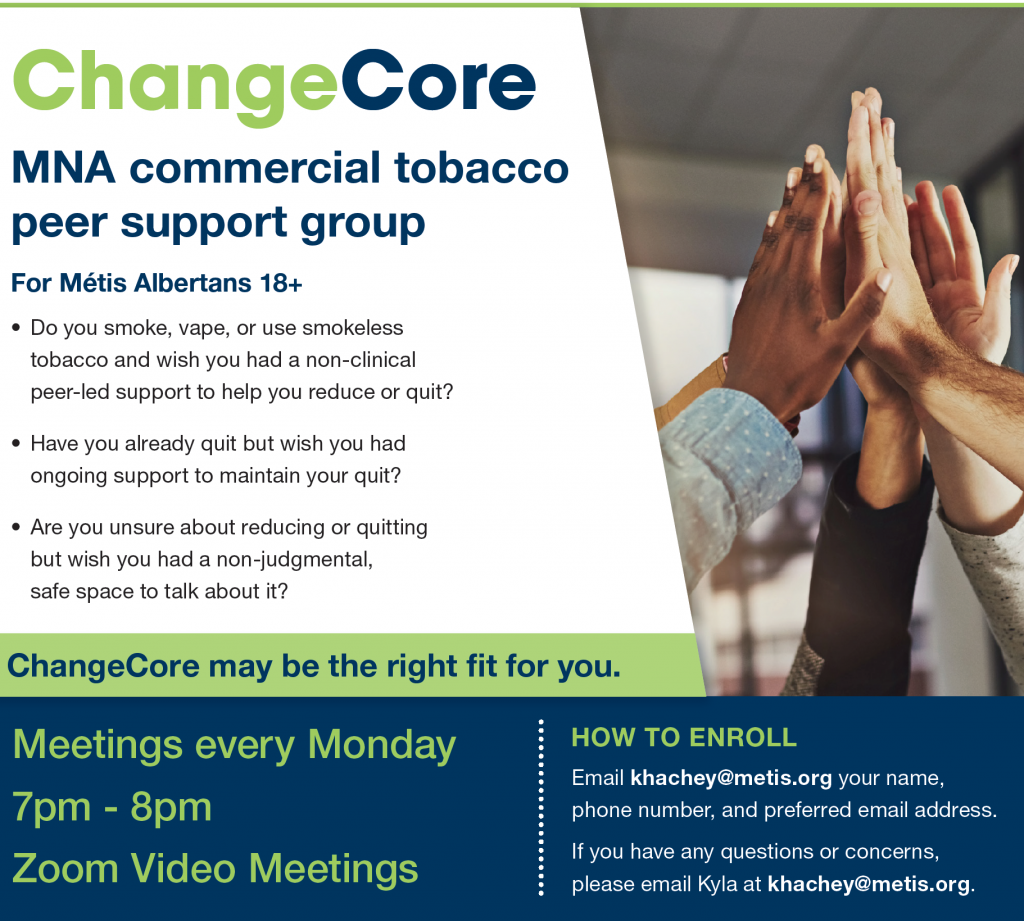 Do you smoke, vape, or use smokeless tobacco and wish you had group support to help you reduce, quit, or maintain your quit? ChangeCore may be the right fit for you.
ChangeCore is a non-clinical, peer-led, weekly support group for those in any stage of change.
Every Monday
7-8 p.m.
ZOOM
What to know about ChangeCore:
Non-judgmental, community led, and culturally-safe support.
No requirement to attend every meeting.
Any stage of change is welcome, including if you're still using commercial tobacco.
Make community connections, get and stay motivated, increase your knowledge and skills about reducing or quitting your tobacco use.
Each meeting will have different theme.
Attend 2+ meetings a month to enter a prize draw. Two prizes drawn the last Monday of every month.
To join, you will need:
Any device with internet, camera*, and microphone. Computers are recommended to view the group properly.
*Camera On is not mandatory but helps create a safe space.
To enroll:
Email khachey@metis.org your name, phone number, and preferred email address.
Nicotine Replacement Therapy Program (NRT)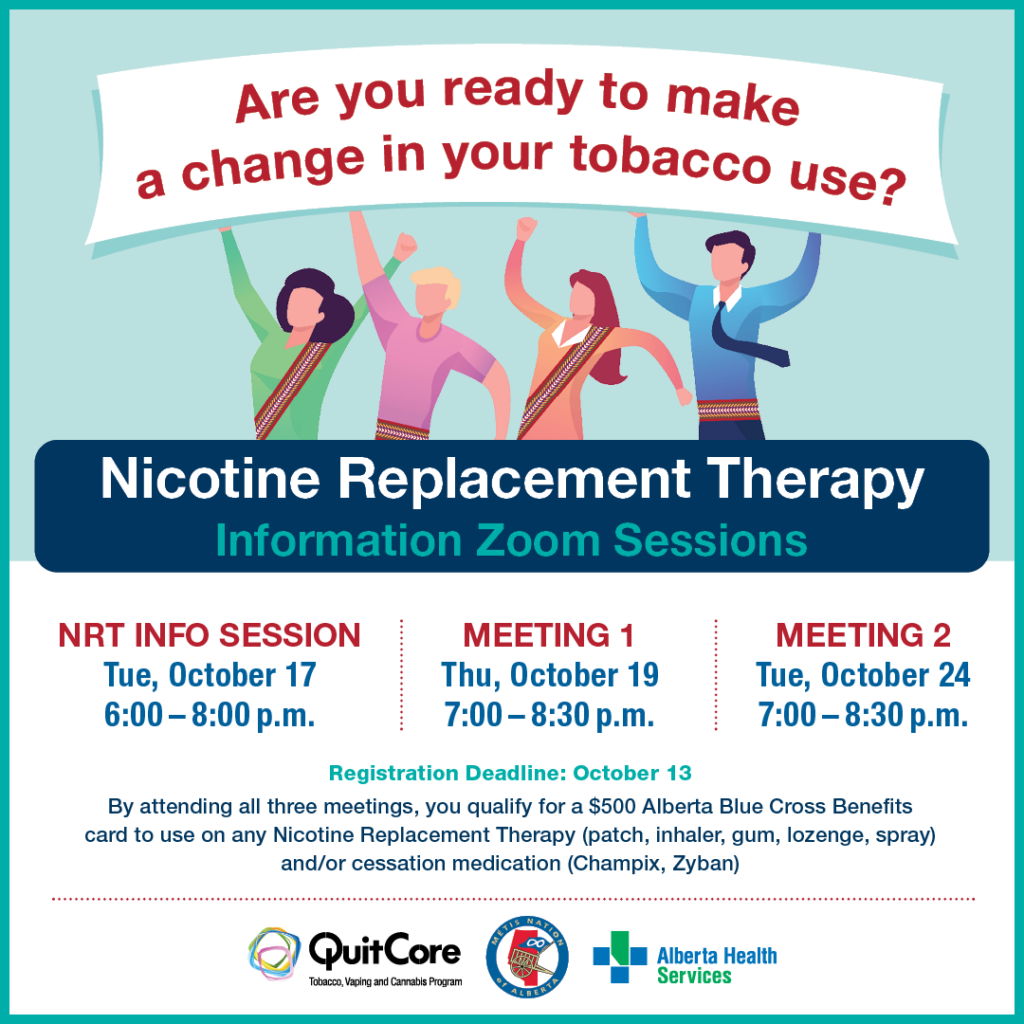 Are you looking to make a change in your tobacco use but aren't sure where to go for support? We might be able to help you.
We are hosting a virtual info session on the Métis Nation of Alberta (MNA) Nicotine Replacement Therapy Program (NRT). This two-hour session will walk you through the steps required to enroll in the MNA NRT program.
Our Community Prevention Practitioner, Kyla, will be available to answer your tobacco-related questions and will help you start your journey of change on the right foot.
Attendees who complete the session will have the chance to enroll in the MNA NRT Program and receive a $500 Blue Cross Card for Nicotine Replacement Therapies.
Participants must attend meeting 1 and 2 to qualify for an Alberta Blue Cross $500 Benefits Card to be used on any Nicotine Replacement Therapy and Cessation Medications.
For more information, contact Kyla at khachey@metis.org
Virtual QuitCore Program

Do you want to make a change in your tobacco use? Join our Virtual QuitCore program to start your journey.
We have teamed up with Alberta Health Services (AHS) to offer group support so you can reach your tobacco-related goals. This program is available to MNA Citizens 18 years or older and seeking to reduce and/or quit their commercial tobacco use.
Upon completion, participants will receive a "QuitKit" with the following resources:
Alberta Blue Cross coverage card for Nicotine Replacement Therapy or prescriptions for commercial tobacco cessation medication
Other cessation supports, such as navigation to community services
One-on-one support from our Community Prevention Practitioner
For more information or to register, reach out to khachey@metis.org today!