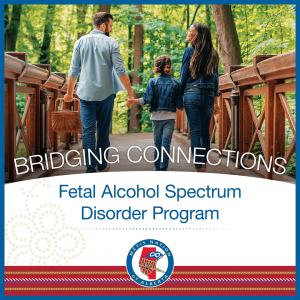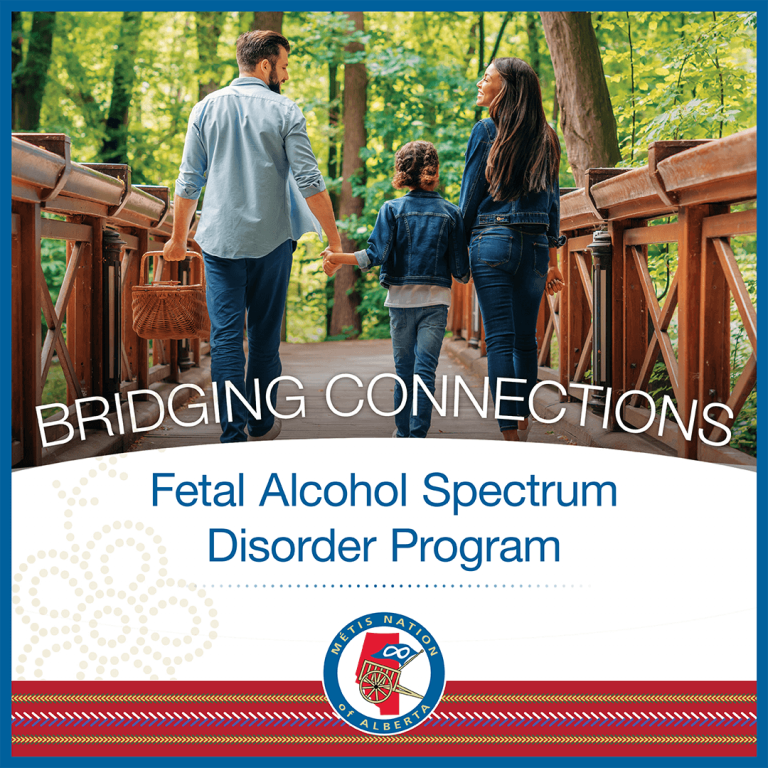 In support of Métis Albertans impacted by Fetal Alcohol Spectrum Disorder (FASD), we are offering our Bridging Connections program.
FASD is a lifelong condition affecting people exposed to alcohol in the womb. We know living with FASD involves strengths and challenges. Each person is impacted differently and may need supports in different parts of their lives.
This program allows us to walk alongside our community and connect them with helpful FASD networks and resources. No one should have to do it alone.
Our Bridging Connections team helps by:
Providing supports and advocacy before, during, and after assessment
Linking Métis Albertans with cultural supports and resources
Connecting individuals to FASD Networks, resources, and information
Supporting the navigation of community resources and systems
Informing and supporting the MNA citizenship process
Offering cultural training to professionals who work with the Métis community
Who is eligible?
MNA citizens and self-identified Métis people living in Alberta
Must be diagnosed with or someone who may have FASD
Take the first step today by filling out the Bridging Connections intake form! Email your completed form and any questions you have to fasd@metis.org, or call 780-455-2200 to have our program staff walk you through the process.
Let's cross this bridge together.
Sincerely,
The Children & Family Services Team
FASD Caregiver Connect Night
Join us for our FASD Bridging Connections Caregiver Connect Night,  September 13.
It will be a safe space for parents and caregivers to come together to have a conversation for support, camaraderie, inspiration, troubleshooting, and sharing what's hard. Learn practical tips for raising children/youth with FASD and participate in conversation with other caregivers who understand. Whatever you might be feeling right now — overwhelmed, anxious, frustrated, fearful — You are not alone!
Sessions will be held second Wednesday of every month, 6-7 p.m. on Zoom.
September 13
6 – 7 p.m.
Zoom
Register today!

Upcoming Dates:
October 11
November 8
December 13
January 10, 2024
February 14, 2024
March 13, 2024
April 10, 2024
May 8, 2024
June 12, 2024
FASD Information Session
The FASD Information sessions will focus on a variety of topics including Living with FASD, Healthy Pregnancy & FASD Prevention, FASD & Sensory Integration Issues, and more. These sessions are held bi-monthly with a different topic for each session.
Next Session: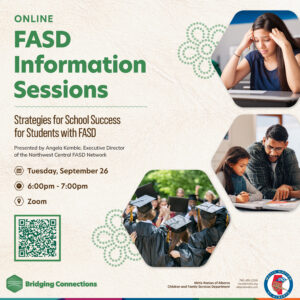 Parents, are you looking for effective strategies you can use to help your child this school year? Teachers, are you searching for strategies to help your struggling students? Everyone is welcome to join our FASD Information Session on Tuesday, Sept 26. Our guest, Angela Kemble, of Northwest Central FASD Network, will bring us practical strategies designed for students with FASD and other neurodevelopmental disabilities. The struggle is real and so is success!
September 26
6 – 7 p.m.
Zoom
Register here
Upcoming Dates: