All Events
November 23
Update: Registrations for this online program is now full.  Stay tuned to our website and social media channels for more programs like these as they develop.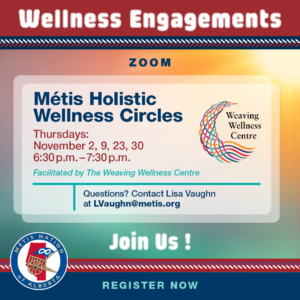 Our wellness is a reflection of our community's wellness.
We invite our Citizens to participate in our virtual Métis Holistic Wellness Circles. Facilitated by The Weaving Wellness Centre, a Métis-led team of dedicated helping professionals, this online series offers a holistic approach to wellness by addressing the emotional, physical, spiritual, and mental dimensions of self through a culturally enriched Métis lens.
Participants can engage in as many of the following sessions:
Holistic Well-being (Emotional Realm)
November 2, 6:30 p.m. – 7:30 p.m.
In this workshop, participants will be introduced to the concepts of holistic well-being. Reflection and discussion will be centred around exploring participants' understanding of well-being, with a particular emphasis on the wellness needs of Métis people. A Métis-specific tool called "Métis Wellness Wheels" will be discussed, and participants will be invited to identify and reflect on their personal experiences of wellness.
Meditation and Mindfulness (Mental Realm)
November 9, 6:30 p.m. – 7:30 p.m.
In this circle, concepts and practices related to mindfulness and meditation will be discussed, along with mindfulness skills, and a guided meditation exercise. Participants will also receive a list of online mindfulness and meditation video exercises to practice at home.
Traditional Plants Workshop (Spiritual Realm)
November 23, 6:30 p.m. – 7:30 p.m.
In this workshop, a Métis knowledge carrier will share different teachings and knowledge related to plant medicines. Participants will be asked during the previous session about particular plants they are interested in. Space will be created to ask questions and engage in shared dialogue and learning together.
Self-care (Physical Realm)
November 30, 6:30 p.m. – 7:30 p.m.
The focus of this final circle will centre around the importance of self-care and practices for well-being. Participants will be invited to identify their self-care practices for maintaining wellness and learn about additional skills and practices. Participants who attended past workshops will be able to share any final reflections on their experiences and gains made throughout the circle series.
For more information about this Sharing Circles Series, please contact LVaughn@metis.org.