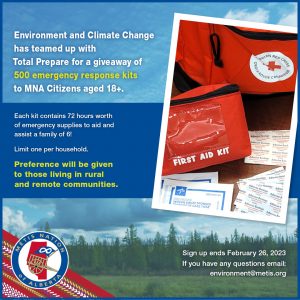 Natural disasters happen in our backyard, and we want you to be prepared for any emergency.
Our Environment and Climate Change department teamed up with Total Prepare for an exciting giveaway of 500 emergency response kits to Métis Nation of Alberta Citizens, with preference given to those living in rural and remote communities.
Each Emergency Preparedness Kit contained enough supplies to support a household of six for 72 hours, or three days. Supplies included food, water, heat, lighting, shelter, sanitation, and first aid supplies, which are vital in isolated area with limited access to basic resources.
Eligibility requirements: MNA Citizen aged 18+.
Kits were one per household. Those selected were contacted by phone and/or email to confirm shipping address. Due to the size and nature of the kits, the shipping to rural addressed or P.O. Boxes were not be available, please refer to our FAQ for more details.
If you have any questions, please email environment@metis.org
Who is eligible for an Emergency Preparedness Kit?
Registered Métis Nation of Alberta (MNA) Citizens can apply for one emergency preparedness kit per household. Priority will be given to MNA Citizens in rural communities. This is to target individuals and families who may be in more vulnerable positions, such as living in areas with less or no access to emergency services, shelter, or could be affected by long emergency response times.
"Rural" means living in isolated areas with smaller populations where emergency services cannot quickly respond due to distance. Rural can also be defined as not having easy access to city utilities such as water and gas, or not being within walking distance of essentials such as stores, gas stations, hospitals, or public transportation.
How is "vulnerable" defined?
"Vulnerable" refers to individuals living in areas with less or no access to emergency services. Vulnerability also includes factors such as mobility/disability issues, having small children, and/or elderly relatives in the household.
How long will it take to process my application and ship my Emergency Preparedness Kit?
The application form closed February 26, 2023. The MNA will only reach out to those selected for a kit to confirm mailing addresses are correct and eligible for shipping at the beginning of March. Total Prepare will begin shipments in early to mid May.
Shipping will NOT be possible to P.O. boxes or rural road (RGE RD/TWP) mailing addresses due to the size, weight, and cost of the kits. Kits will require a signature upon delivery.
Total Prepare is a Canadian-owned and -operated emergency preparedness solutions company based out of Victoria, B.C. Their motto is for everybody to "be prepared, not scared" when it comes to emergency situations, arming their customers with hearty long-lasting food, water, and emergency equipment. Testing their supplies regularly, Total Prepare stands by their products 100 per cent.
What is included in the Emergency Preparedness Kit?
The kits can accommodate up to six people for 72 hours. The contents cannot be modified. Each kit includes supplies to help with nourishment, water, heat, lighting, and first aid supplies, including a Pocket Emergency Plan that recipients can fill out with important emergency response phone numbers and any important medical information.
Personal items such as prescriptions with medications and dosages listing ingredients, and physician names for each person should also be written in the Pocket Emergency Plan. Additional copies of the Pocket Emergency Plan and extra resources are available on the Total Prepare website.
Emergency Preparedness Kit Contents:
6 food bars
36 drinking water pouches
6 hooded ponchos
6 sleeping bags
1 pair of work gloves
3 pairs of hand/foot warmers
6 light sticks
nylon safety rope (50 feet)
duct tape (10 yards)
bath/toiletry packs
2 rolls of toilet paper
dust masks
hand-crank flashlight radio
5 flashlights
(3) 2-person tube tents
Emergency Preparedness Guidebook
multi-function army knife
whistle
waterproof matches
single wick 40-hour emergency candle
aqua tabs
foldable water container
first aid kit (contents listed below)
First Aid Kit Contents:
bandages (6 varied sizes)
gauze pads (2 sizes)
abdominal gauze (ABD) pads
roller gauze
cotton tip applicators
medical tape
tweezers
cold pack
scissors
tongue depressor
nylon bag
nitrile gloves
alcohol wipes
What should I know about Emergency Preparedness Kits?
The purpose of an emergency response kit is to support a family's immediate needs in the first hours and days after an emergency. Being prepared for the first hours in any emergency is crucial to survival. In Alberta, emergencies can include, but are not limited to: landslides, earthquakes, tornadoes, hail, wildfires, extreme temperatures, strong wind storms, and general power outages.
Recipients should update their kit once a year and restock each kit after every use, including checking the expiration dates on all food and water supplies. Recipients should consider packing extra clothing and footwear, pet supplies, entertainment supplies (deck of cards, notebook etc.), and garbage bags.
Kits are intended for use in home and/or work emergency situations. For use as a vehicle kit, recipients should consider including water, food, blankets, batteries, a map, road flares, gloves, jumper cables, flashlight, shovel, phone charger, kitty litter, and de-icer.