Online Opioid Awareness and Community-Based Naloxone Training Course
The ongoing opioid crisis is not showing signs of slowing down as accidental opioid poisonings (overdoses) are increase daily. Tragically, the crisis affects our Métis community. In response, we have developed online opioid modules to help impacted MNA Citizens.
The content of this online learning course is based on our Opioid Awareness and Community-Based Naloxone Training Program, previously offered in 2018 and 2019 at in-person workshops across Alberta. To increase this program's reach, the material has been transformed into an online format tailored to our community.
The purpose of this course is for Citizens to build the skills, attitude, and knowledge to respond to an opioid emergency effectively and confidently.
Through this course, you will learn more about:
Alberta's current opioid crisis
Opioid pharmacology basics
Harm reduction strategies
How to recognize an opioid overdose
Facts about naloxone
Tips to respond to an opioid overdose
How to use the SAVE ME Steps
Upon completing the course, you will receive the Online Opioid Training certificate.
Creation of the Online Opioid Awareness & Community-Based Naloxone Training Course was made possible through funding from the Government of Alberta.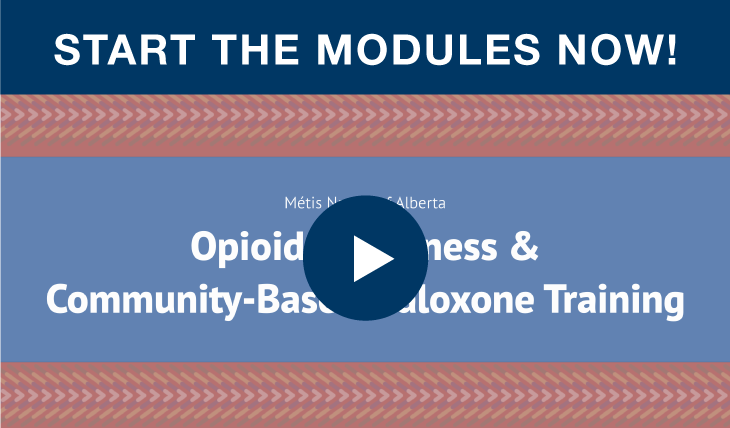 ---
Navigation Support and Services
Finding the right supports for you or your loved ones can be difficult and overwhelming. This is why we have a Supports and Services Navigator who can help you with:
Navigating the health care system
Making links to mental health and addiction services
Providing information on obtaining Naloxone kits
Connecting with housing and employment supports
Information and assistance on accessing treatment programs
For more information about MNA opioid awareness programs and supports please email health@metis.org or call (780) 455-2200.