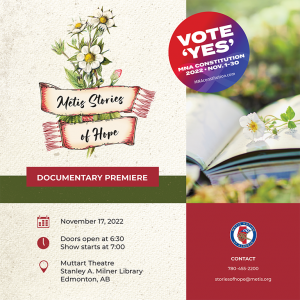 In March 2020, we experienced a historic and life-changing event, the COVID-19 pandemic. In order to limit the spread of the novel COVID-19 virus, we had to pause in-person gatherings. This took a great toll on our community's collective mental health. Although we found ways to gather virtually and maintain some semblance of connection, it wasn't the same.
We then set out on a mission to better understand how Métis Albertans experienced the pandemic and in doing so we heard stories about Métis identity, community, and the path forward into our future. These experiences and stories have been compiled into a short film titled "Métis Stories of Hope."
Join us at the Muttart Theatre at the Edmonton Public Library on November 17 for the premiere of Métis Stories of Hope. Doors open at 6:30 with the film starting at 7:00.