Polling stations will be open at all regional events from 8 a.m.- 8 p.m.!
Region 1
Come out on Nov. 17 for dinner and entertainment with Comedian George Tucker at the Portage College gymnasium in Lac La Biche. Panel discussion and entertainment begin at noon, followed by dinner and entertainment from 6 p.m. – 10 p.m.
Region 2
Join Region 2 on Nov. 14 at the Bonnyville & District Centennial Centre fieldhouse for dinner and entertainment from 5:30–9 p.m.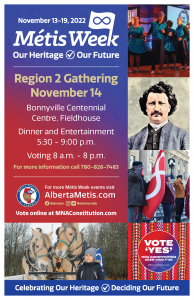 Region 3 – FULL
Region 3 is hosting its Seniors Gathering on Nov. 13. Please note: Registration for this event is now full. Polls will remain open.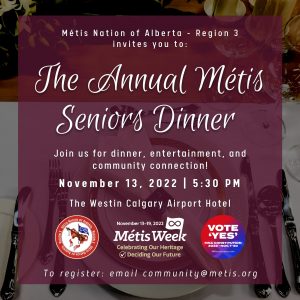 Region 4
There's fun to be had on Nov. 19 in St. Albert at the St. Albert Inn and Suites from 5 p.m. -9 p.m.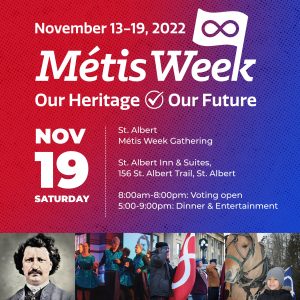 Region 5
Have your say at the Region 5 Annual General Meeting on Nov. 19 at the Slave Lake Inn and Conference Centre from 1 p.m.–10 p.m. Events will include dinner, entertainment, and programming for youth.
Region 6
Celebrate the retirement of Knowledge Keeper Angie Crerar on Nov. 18 at the Jackpot Grill & Events Centre from 5:30–10 p.m.