All Events
November 22
UPDATE: Due to unforeseen circumstances, both the Slave Lake Gathering on November 1st and the Medicine Hat Gathering on November 8 have been canceled.  Interested participants who reside in those areas are encouraged to register for our Zoom gathering on November 22nd.
The Otipemisiwak Métis Government, Department of Health is designing a nicotine prevention program aimed at youth, and we need YOUR voice to help make it happen.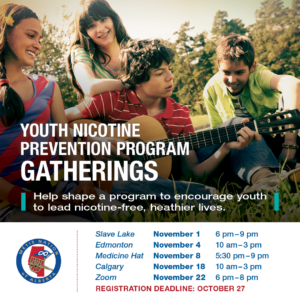 Are you a Métis youth aged 29 and under?  Are you a parent, caregiver, or Elder eager to share your thoughts? We are welcoming input from community members from all walks of life.
Participate in one of our Youth Nicotine Prevention Program Gatherings taking place across Alberta and online.
Edmonton: Nov. 4, 10 a.m. – 3 p.m., McKernan District Community League
Calgary: Nov. 18, 10 a.m. – 3 p.m., Battle River Territory Office (Formerly Region 3)
Zoom: Nov. 22, 6 – 8 p.m., Online
All participants will receive a $50 honorarium, and mileage compensation and hotel accommodations for those over 100 km away.