All Events
May 27
Taking action on our journey to self-government.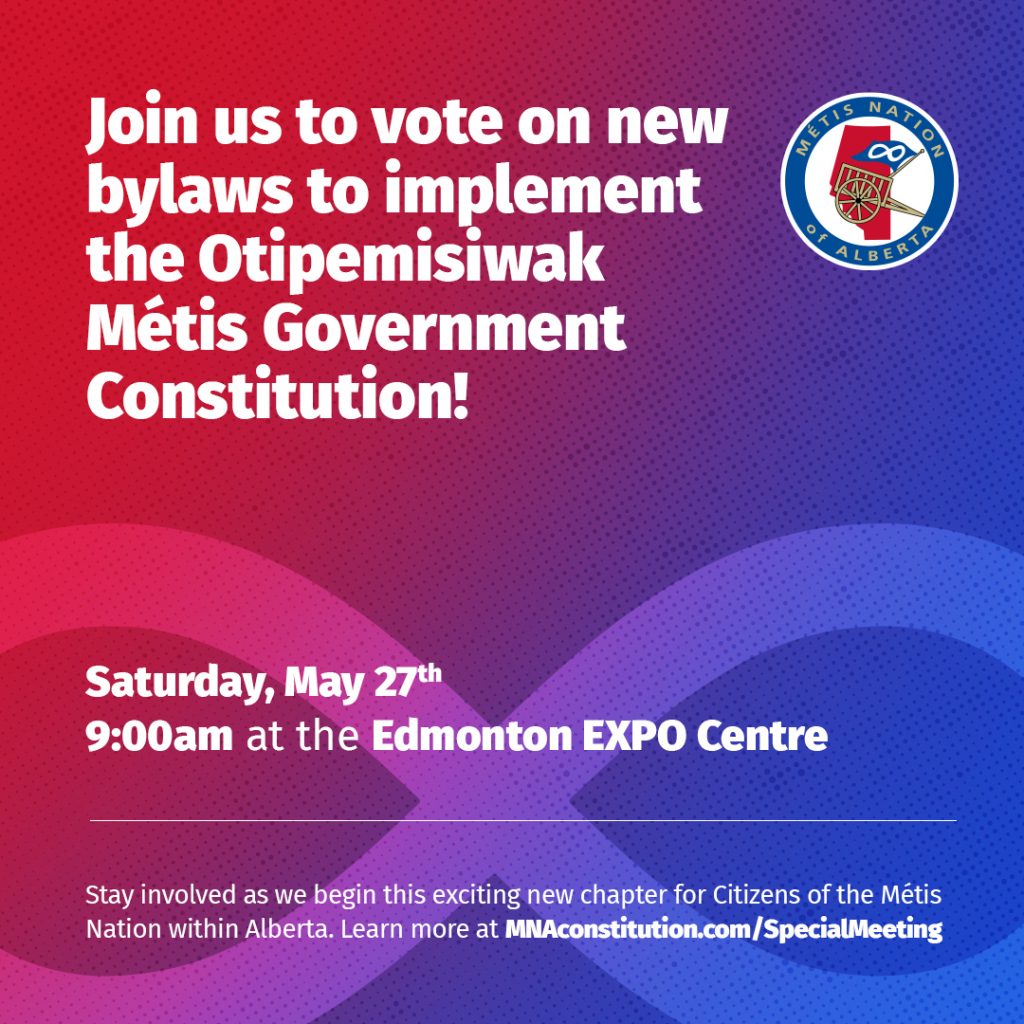 Register for the Special Meeting.
Registration for the Special Meeting is now open. A Special Meeting of the Citizens of the Métis Nation of Alberta has been called to address the following:
Passage of new bylaws to enable implementation of the Otipemisiwak Métis Government Constitution
The meeting will be taking place starting at 9 a.m. at the Edmonton EXPO Centre. Citizens also have the opportunity to participate virtually via Zoom.
If you plan on attending virtually, please register as soon as possible through this link.
Please note the following in preparation of the Special Meeting on May 27 at 9 a.m. MST:
Zoom links will only be provided to Citizens of the MNA.
To support voting through Zoom, Citizens must register individually for the meeting. For example, if you live in a household with two Citizens, each of you must register to allow you to participate in voting.
Ahead of the meeting, make sure you have camera and mic functionality enabled on your login device (e.g., laptop or desktop computer).
Please note: All citizens participating in person and online will be required to adhere to the Code of Conduct.
MNA Code of Conduct
Zero Tolerance 
The Métis Nation of Alberta (MNA) has zero tolerance for any form of harassment, physical or verbal, by attendees of the meeting (whether virtual or in person). The MNA reserves the right to take any action necessary to uphold the principles outlined in this Code, including removal from the premises or the online forum where the meeting is being held.
 Expected Behaviour 
Treat all Citizens with respect and consideration
Avoid personal attacks directed towards other Citizens
Respect the rules and policies of the meeting
A member can only speak twice on a particular question
Unacceptable Behaviour
Personal attacks against another member
Physical or verbal abuse of a member
Undue or excessive interruption of any speaker
You can find more details on the Special Meeting by visiting: Special Meeting (mnaconstitution.com) and details on the Elections and Referenda Act by visiting: Laws Group (mnaconstitution.com)