All Events
June 6, 6:00 pm - 7:30 pm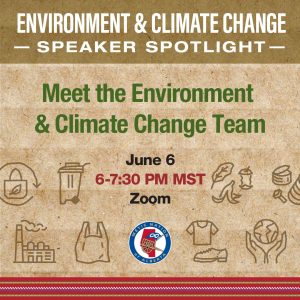 Speaker Spotlight: Meet the Environment & Climate Change Team
Get to know our Environment and Climate Change (ECC) team and what we are doing to address climate change and environmental protection!
If you are interested in learning how the ECC Department is integrating Métis knowledge and culture to act on climate change and promote stewardship of the land, start here!
On June 6 at 6 p.m. MST, join us virtually for our Speaker Spotlight: Meet the Environment & Climate Change Team.
If you have any questions, please reach out to climate@metis.org
The Métis Nation of Alberta (MNA)'s Environment and Climate Change Department was formed in early 2021 and is divided in two sub-teams, Environment, and Climate.
The Environment Team is responsible for environmental monitoring and conservation efforts, including Askîy, the MNA's community-driven environmental monitoring initiative. The Climate Team is responsible for delivering the MNA Climate Change Action Plan, including collaborative projects related to renewable energy, energy efficiency, citizen engagement, and sustainability.
The MNA's ECC team works to address Citizen concerns, push forward policy recommendations, and provide useful programming. Together, both teams are proactive in making change and are passionate about what they do!
About the Environment & Climate Change Speaker Spotlight:
The Environment & Climate Change Speaker Spotlight is an initiative inviting Métis community members and industry professionals to share their skills and knowledge. The goal of this project is to provide a sense of community for Métis people and information on climate change, climate action, and the protection of environment. Each spotlight will offer a new topic based on previous Métis Nation of Alberta Citizen feedback.