All Events
December 8, 2022, 12:00 pm - 1:00 pm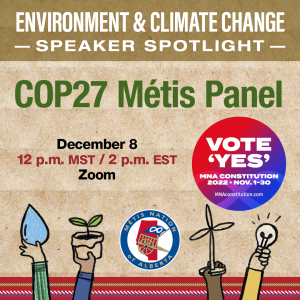 Have you seen COP27 in the news lately? COP27 stands for 27th Conference of the Parties and is an annual UN Climate Change meeting between world leaders, scientists, activists, and other groups. This year, the Métis Nation had a delegation present for the first time!
Come hear from our Métis Nation COP27 attendees for a virtual Environment and Climate Change Speaker Spotlight: COP27 Métis Panel Debrief on Dec. 8 at 12 p.m. MST/ 2 p.m. EST.
Join the panel to find out what happened at the conference in Sharm El-Sheikh, Egypt from November 6-18, and how the Métis were represented at this global event.
Panellists include:
– President Cassidy Caron, President, Métis National Council (MNC)
– Erin Myers, Director of Environment and Climate Change, MNC
– Jennifer Pylypiw, Environment Engagement Coordinator and Policy Analyst, Métis Nation of Alberta
For more information, reach out to Ali at agreenslade@metis.org.
Cassidy Caron, President, Métis National Council
Cassidy Caron is a Métis woman with roots in the historic Métis communities of Batoche and St. Louis, Saskatchewan. She grew up closely connected to her Métis traditions, heritage, and culture and is driven by her family and community values of respect, honesty, collaboration, and responsibility. Cassidy is the first elected woman to hold the office of President of the Métis National Council.
Cassidy is a Nation-builder. Utilizing the knowledge, skills, and perspectives acquired through her formal education, professional and political experiences, as well as through her deep community involvement, Cassidy's goal is to explore and utilize innovative approaches to community development and Nation-building, which promote effective collaboration and deeper understanding between Indigenous peoples and all Canadians.
As an entrepreneur, Cassidy has advised and evaluated both provincially and nationally administered programs that aim to serve and support Indigenous peoples and communities across Canada. She has also supported the implementation of initiatives in, by, and for Indigenous communities throughout Canada in a variety of sectors—all of which sought to achieve an overarching goal of restoring balance and wellness to Indigenous communities.
Erin Myers, Director of Environment, Climate Change and Emergency Management, Métis National Council
Erin Myers represents the Métis Nation through her role as the Director of Environment, Climate Change and Emergency Management for the Métis National Council. Her role as Director is to advocate nationally and internationally for the inclusion of the Métis in program and policy development, to ensure that the Métis Nation has an active role in environment and emergency management dialogues, and to support Governing Members in advancing their environment priorities.
Prior to this role, Ms. Myers led the Climate Change and Health Adaptation Program for 13 years, which supports First Nation and Inuit communities in leading their own research to minimise the impacts of climate change and advance Indigenous Climate Leadership.
Ms. Myers is an "Honorary" member of the Fishing Lake Métis Settlement, and most importantly, she is a mother to Gavin and Cullen, who remind her to walk gently and respectfully on Mother Earth.
Jennifer Pylypiw, Engagement Coordinator and Policy Analyst, Métis Nation of Alberta
Jenn holds a Master of Science in Climate Change Impacts, Adaptation, and Mitigation from the University of Copenhagen. She is interested in the relationship between the environment and the social, political, and economic factors that exist both locally and globally. Jenn sought to explore these relationships for her master's thesis, studying the social impacts that occurred within a small Mexican fishing town following the federal designation of a Natural Protected Area.
Jenn continues to explore the relationship between society and the environment as an Engagement Coordinator and Policy Analyst in the Environment & Climate Change Department at the Métis Nation of Alberta. She works on a variety of programs and initiatives that aim to address environmental concerns of Métis Citizens in Alberta and promote sustainability in ways that ensure Métis traditional knowledge and practices are preserved. She is passionate about Indigenous-led environment and climate action and sharing stories of resiliency from Métis Citizens in Alberta and throughout the homeland.
Calendar powered by The Events Calendar