All Events
December 14, 2022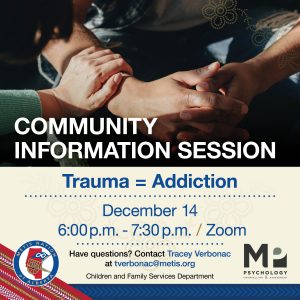 Trauma is the root cause of many addictions.
In this Community Information Session: Trauma = Addiction, we will explore the causes of addiction and how it impacts the individual, their family, and community. We will look at how to work with individuals who have experienced trauma and explore harm reduction as a means to combat addiction at the community level.
Dec. 14
6 p.m. – 7:30 p.m.
Zoom
Register Here!
If you have any questions, please reach out to Tracey at tverbonac@metis.org
About the Speaker:
Damian Abrahams is originally from Haida Gwaii and has been living in amiskwaciwaskahikan for the last 20 years.
He is a single dad and a photographer and filmmaker. In 2013, Damian graduated with honours from Concordia University of Edmonton with a Bachelor of Arts in Applied Psychology where he focused his research on Attachment. For the past 15 years Damian has been working with young people. He's worked with children exposed to family violence, high-risk youth, and students in K – 12 schools.
His biggest strength is his ability to form relationships quickly with his clients due to his childhood being similar to theirs. Damian was apprehended at the age of 2 and lived in the foster care system until he aged out at 18. Damian has struggled with homelessness, addiction, and is a survivor of childhood abuse and sexual abuse. Damian is well versed in the challenges children and youth face at home and understands parents who do the best with what they have, as his grandmother attended residential school in Alert Bay, and his mother attended day school in Massett.
With the help of the Cree and Stoney cultures, Damian has been walking the Red Road for the past 17 years.
Dámaan agang hl kíng wang
"Take good care of yourselves"