All Events
November 29, 6:00 pm - 7:30 pm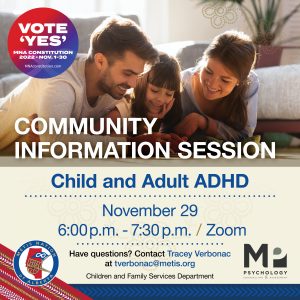 Attention deficit hyperactivity disorder (ADHD) is a common neurological condition, but many people dismiss this disorder as not being real or being overdiagnosed.
In this presentation, we will gain a basic understanding of what ADHD is, how ADHD is diagnosed, and discuss some of the behaviour's attributed to having this disorder. We will then introduce tools to help deal with those behaviours.
Tuesday, Nov. 29
6 p.m. – 7:30 p.m.
Zoom
Register Here!
Presenter: Kim Sinkovics
Kim Sinkovics is excited to be working as a facilitator for the Métis Nation of Alberta. She is a Métis mother of four, and is passionate about working with children, adolescents, and families. She has been working in the family support field for 15 years. For the past four years, she has provided school-based mental health services. She offers a genuine concern for the well-being of people, empathy, and understanding the struggles of others.
Have questions? Reach out to Tracey at tverbonac@metis.org
Calendar powered by The Events Calendar